Details:

This fantastic 184 page eBook has just been added to our collection. The eBook is of extremly high quality and is perfect for children or adults interested in making "scoobies". Every section includes full colour illustrations and clear insturctions.
To view a sample page from the eBook click HERE. This eBook is in MS Word format and will be delivered to your primary paypal email address as soon as payment is recieved.

Here is a list of all the chapters in the eBook:
INTRODUCTION
SCOUBIDOU FOR BEGINNERS.
SCOUBIDOU FOR BEGINNERS 2.
SCOUBIDOU 3.
SCOUBIDOU 4.
HOW TO MAKE A MOUSE WITH SCOUBIDOU®
STARTING STITCHES
BEFORE YOU BEGIN A PROJECT
STARTING A PROJECT
STARTING TIPS TO REMEMBER
FINDING THE CENTERS
STARTER SQUARE STITCH
STARTER BRICK STITCH
STARTER SUPERBRICK STITCH
STARTER FLUTED COLUMNS STITCH
STARTER TRIANGLE STITCH
STARTER COBRA STITCH
COUNTING STITCHES
THE BASIC STITCHES
THE CHINESE STAIRCASE STITCH
THE SQUARE STITCH
THE CIRCLE STITCH
THE BUTTERFLY STITCH
THE SPIRAL BRAID STITCH
THE DIAMOND BRAID STITCH
THE TRIANGLE STITCH
THE BRICK STITCH
THE TWIST STITCH
THE COBRA STITCH
THE SUPERBRICK STITCH
THE CORKSCREW STITCH
THE QUAD STITCH
THE SUPERBRICK STITCH
THE TORNADO STITCH
THE FLUTED COLUMNS STITCH
FINISHING STITCHES
TRIANGLE COMPLETION STITCH
THE COMPLETION STITCH
THE BRICK COMPLETION STITCH
THE SUPERBRICK COMPLETION STITCH
THE FLUTED COLUMNS COMPLETION STITCH
FANCY FINISHED TASSELS
SCOUBIDOU PROJECTS
SIMPLE ZIPPER PULLS
SIMPLE KEY CHAINS
COMBINATION ZIPPER PULLS
Reverse Square
Twisted Brick
Twisted SuperBrick
Twisted SuperBrick
FISHY ZIPPER PULLS
CREATING A ROCKET SHIP
CREATING ONE KIND OF HEART
COBRA BRACELET – PART 1
COBRA BRACELET – PART 2
SEAMLESS SQUARE BRACELET
LANYARD KEYCHAINS
AS you can see from this is an incredibly detailed eBook and is well worth the price below. If you are still in any doubts take a look at the screen shots below!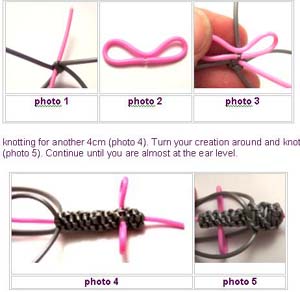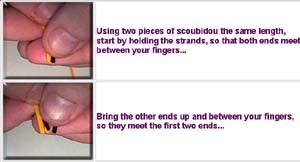 Price only £4.99
- - You may also be interested in our Childrens Web Store - -